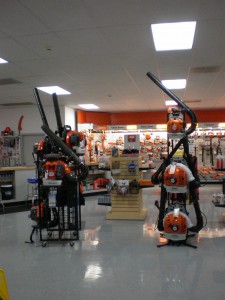 CFM vs. MPH?
When choosing a blower, MPH is a spec that is often highlighted because we all understand MPH. A blower that is rated at 200 MPH sounds very impressive! But, the more important spec to concentrate on is Cubic Feet per Minute (CFM). This is how much air volume the blower is producing and what moves the leaves or other debris that you are trying to clear.
Another thing to consider is the size of the area you are trying to clear. Is it a back yard in town with one tree? If so, consider a small backpack blower with a CFM rating in the 350-500 range.
Are you maintaining an acre or more with large leaves, such as maple, oak or walnut and multiple trees? Then consider a larger backpack with a CFM rating in the 600-900 range.
Stop by and let our knowledgeable staff help you with your decision!